I mean, not really. I'm figuring it out for the most part and I'm pretty proud of how far I've come thus far in the journey. But, still. Here's a quick series of gifs that explain how I feel, despite feeling all of this and having select few people who know little or nothing about me ask me how I'm doing, because… Let's face it. They're not doing it out of my best interest. They want the scoop, the dish, and the gold medal of being a friend 'whose shoulder I can cry on, if I want to.' Thanks.
When I made the decision to separate, and told close-to-me people. Thanks for the vote of confidence that I have an idea of what my life is like, and what it isn't.
Which brought this on:
The gold-trophy-award-friend who gives me a shoulder to cry on to win said award (and gossip):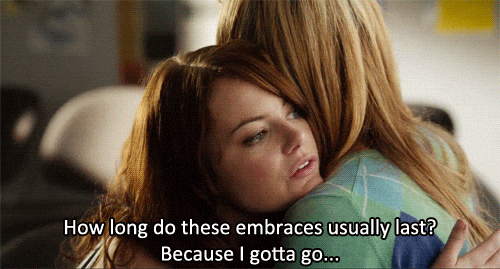 When I go on a date (since our separation):
I mean, dang. How do you really feel about me and my life decisions?
Because I'm tired of hearing this:
One thing I've learned about people who are divorced (and those who end up as single parents like myself), is to not be so judgmental. It'd be great if others did the same for me, you know, if you wanna be friends that is.:
So now, on my days off (Sundays), this is me… By myself… Being awesome:
And finally:
Love you, Catie. I'll end with this: